Casual Hoteles launches the new version of the BeCasual Club
Marketing
11/10/2022
The Importance of Having a Loyalty Program
The goal of this innovative and technological loyalty program, designed in collaboration with
Paraty Tech
, is to reward guest commitment, build community, and understand the travel habits of the hotel chain's customers. This aims to continually tailor their offerings to match the preferences and needs of their guests.
After a successful summer season, the thematic hotel chain
Casual Hoteles
has kicked off autumn with a significant
innovation
: the
launch of the BeCasual Club
, its revamped
loyalty program
, whose
new version
has been designed in collaboration with its key technological partner, Paraty Tech.
This is a groundbreaking
proposal
, much like the Valencia-based
company
itself, including very unique
differential services
that add significant value to its members, fostering a sense of belonging and community.
Because, according to
Juan Carlos Sanjuán
, president and founder of Casual Hoteles, this is one of their main objectives, "to
deeply understand the guests staying in our establishments, allowing us to continuously adapt our offerings to their tastes and needs
."
This sentiment is shared by
Daniel Sánchez
, Chief Revenue Officer of the technology firm, who adds that this club exemplifies their "ability to adapt to the needs of each establishment or chain, as it has been designed from scratch, 100% tailored to a client who continually pushes us to join their innovation journey."
So, in addition to generating
benefits from minute 0
, despite its
free
nature, as users receive
5 euros for free
upon registration, redeemable for hotel reservations within the chain; users also enjoy other perks such as accumulating redeemable euros for every 10 euros spent on the group's website or
receiving money as a birthday gift
.
These perks are complemented by other details such as
welcome gifts
upon arrival, ranging from a 10% discount on accommodation reservations to
extra services offered by the hotel
, participation in several annual draws, and the
option for a late check-out
, subject to availability.
A Scalable Program That Rewards Loyalty Like None Other
According to Juan Carlos Sanjuán, "the BeCasual Club stands out for being personalized, scalable, and flexible." In this sense, he explains, "it's a loyalty program designed to measure by Paraty Tech, our technological partner. It's very intuitive and is designed for both the end customer and our employees, who can benefit from all the advantages on equal terms." It's also
scalable
, he adds, "because it adapts the benefits to the level of commitment shown by each member, generating 3 categories: BeCasual (available with just registration), BeCasual Fan (for customers who have booked between 4 and 6 stays), and BeCasual Lover (from 7 stays onward)."
Finally, he concludes, "technologically it is very
flexible
, and that, internally, means that we can manage content and other functions autonomously and be very agile in creating new promotions. For example, in 2023, we plan to incorporate new benefits such as earning free euros for every friend BeCasual members successfully enroll in the program, and the possibility of converting accumulated points into charitable contributions, among other things."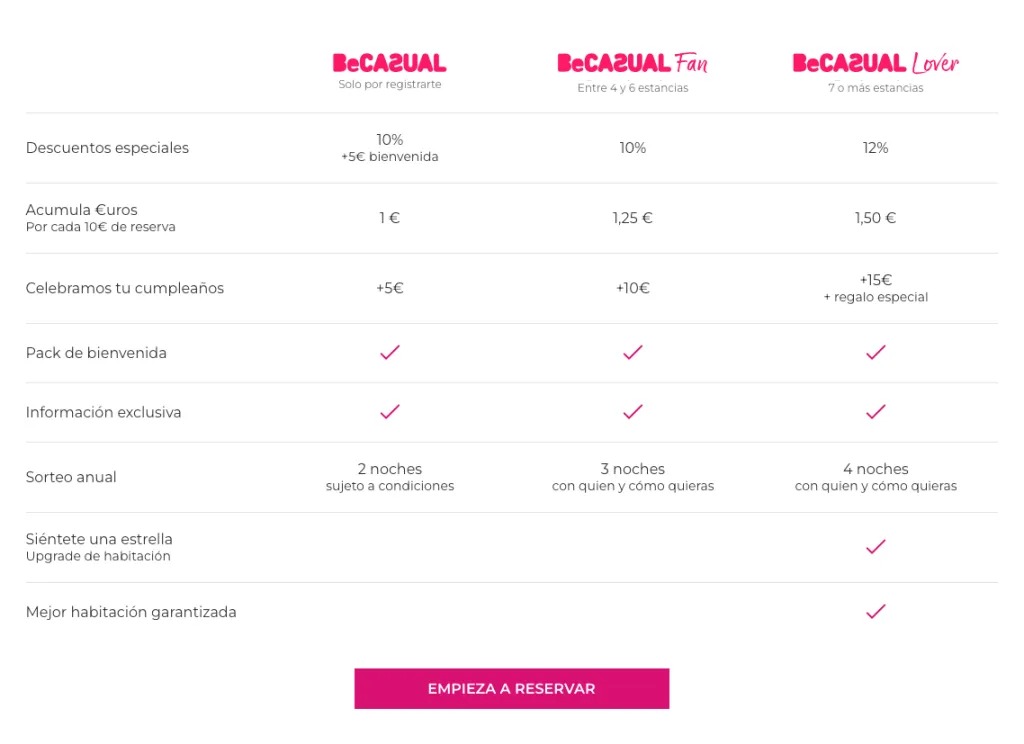 BeCasual stands out for rewarding its members from the get-go and for rewarding their loyal commitment with additional benefits
About Casual Hoteles
Casual Hoteles
is a Valencia-based hotel company founded in 2013 by Juan Carlos Sanjuan with the aim of becoming the benchmark for thematic urban accommodations in Spain. All its hotels feature personalized decoration inspired by their locations and offer quality standards and central locations at affordable prices. They are fun, surprising, and provocative, making Casual Hoteles a disruptive chain that was recognized with the Hostelco Award for "Best Hotel Concept" in 2018.
The group also stands out for its strong
social and environmental commitment through its own Code of Ethics
and collaborations with NGOs such as Save the Children and Unicef, among others. Currently, Casual Hoteles has 22 hotels and 848 rooms in 11 cities in Spain and Portugal, of which 1 is owned, 15 are operated under a rental arrangement, and 6 are franchises.