2023 trends in hotel marketing and distribution
Marketing
26/01/2023
Hosteltur Premium Experts Table, January 26, 2023
From a panel like the one that Hosteltur had been advancing for weeks, only something very good could come out. And the truth is that the Table of Premium Experts, under the title "What are the new trends in tourism marketing and distribution, that you should not miss?", framed within the cycle of actions of Hosteltur Academy, has undoubtedly been lives up to expectations.
Oliver Espinosa, director of RIU Hotels & Resorts, Daniel Sánchez, CRO of Paraty Tech, and Chema Herrero, CEO of Bedsrevenue, accompanied Neus Tarrés in his role as moderator. Before giving way to the first of the speakers, he was in charge of opening the session by recapitulating the keys to the delicate global context in which we find ourselves immersed, and wondering how it can affect tourism distribution and direct hotel sales in 2023, even when the The most recent edition of Fitur, concluded last Sunday, left a very good taste in the general mouth and expectations of prosperity.
Oliver Espinosa: "The democratization of technology has generated a complex distribution environment"
The opinion of Oliver Espinosa, director of RIU Hotels & Resorts, is that, over the last few years, there has been a process of democratization of technology that has resulted in a complex environment in which wholesalers are dedicated to buying already sell and the hotel ends up losing control over its rate and its inventory. He was referring to the concept of "hyperconnected distribution", in which the B2B to B2C and B2B to B2B to B2b to B2B models coexist...
Given this scenario, the retailer, one of the most affected parties, has ended up demanding a direct relationship with the hotel, which is becoming more and more widespread. A new mode of relationship characterized, fundamentally, by an unmediated dialogue and an improvement in information. For the hotelier, it constitutes a way of diversification, while gaining clarity in the face of hyperconnection and reducing its distribution costs. For its part, for the retailer it means, among other things:
Have access to a greater number of product versions and additional products
Meet orphan demand
Access the complete inventory
Enjoy immediate commissions
All this is possible thanks to technology and there are different implementation formulas. However, although the advantages of this marketing format are clear (greater adaptability, less investment and B2C segmentation, cost reduction in technological terms, etc.), Oliver concluded by emphasizing that the challenges to be overcome are not few: widespread credit, PVP and Net parity, metasearch agent, limited product selection, billboard effect, commercial consistency...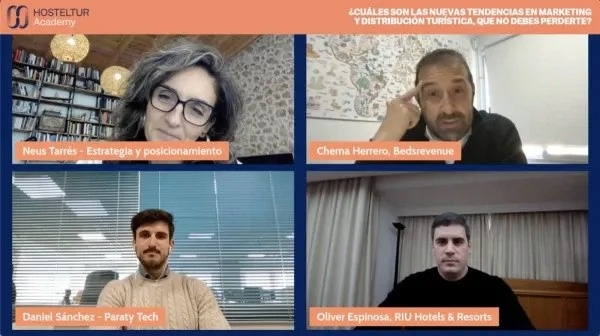 Daniel Sánchez: "Process automation is the key to many of the trends that 2023 holds for us"
Daniel Sánchez, Chief Revenue Officer of Paraty Tech, has focused his speech on identifying the trends that 2023 holds for us in terms of direct sales. Specifically, he referred to ten that, in his opinion, will largely mark the path that hoteliers must follow to obtain the expected results, and in which automation has a lot to say.
Some are old friends in the industry that have resurfaced in the wake of the pandemic, others are something of a novelty for many. Even so, as Daniel commented, the technology and resources exist to implement all of them.
1.Ancillary Revenue
We are not only referring to upselling and cross-selling. We must focus on moving from RevPar to TrevPar. Increasingly, this is about personalizing the experience, probably the best way to compete with OTAs and tour operators. And for this, it will be necessary to be prepared to be able to sell services beyond accommodation, even independently and through automated processes.
2. Voice channel
Although there is a general lack of specialization in the telephone service, if hotels were aware of the potential of this direct channel, which has gained integers as a result of the pandemic, they would take much more care of it. The voice channel has one of the highest conversion rates and, combined with a good CRM, which facilitates the follow-up of leads through automated tasks, its potential is extraordinary.
3. Direct "Pro" module
Coinciding with everything expressed by Oliver, Daniel has influenced how this module is becoming more and more like the Loyalty Clubs for guests. Work is being done on incentive programs and differentiated strategies for each agency. It is a very profitable sale that also contributes a lot in terms of attracting databases.
4. Artificial intelligence
Without the need to think about the hotel Minority Report, the truth is that artificial intelligence is not the future, it already lives with us, and is present in the generation and application of business rules, automated sales tips, follow ups of potential customers and conversations with guests.
5. Immersive Shopping
A trend that is making its way by leaps and bounds and that promises the highest level of customization, while increasing conversion and improving ancillary revenue.
6.A/B Testing
There is no better way to ratify the suitability of the actions we carry out than through A/B Testing, something that hotels are increasingly aware of. Improve ratios, build trust, increase conversion and enrich the user experience.
7. Advanced Digital Marketing
It seems that the idea of not putting a ceiling on investment in digital marketing is gradually being internalized. Hotels are incorporating specialists in this field, including new channels and models to combat OTAs and squeezing the potential of metasearch engines.
8. Loyalty
Before practically relegated to the big chains, today a must for all establishments, almost a mechanism for attracting the first reservation and, perhaps, also the last. Loyalty is experiencing a new stage of splendor and the variety of existing programs are a great ally to get to know the guest better, improve the customer journey and, of course, try to ensure a repeat customer profile.
9. Omnichannel
In the same way that the client can try to contact us through the most diverse channels, the hotel must be able to assist them in all of them in a coordinated manner, online and offline, demonstrating that it knows their preferences, and automating as much as possible the tasks associated with communication flows.
10. Direct channel vs. tattoo
The tour operation has reactivated a lot and it will do so even more throughout 2023. Be very careful with opaque packaging, with opaque disparities, because this player wants to recover its status and the hotel cannot allow them to be the ones that sell the most juicy from your inventory.
Chema Herrero: "The numbers have improved a lot, but not because of a change in strategy, but because of a very special situation"
The latest intervention from the premium panel of experts came from Chema Herrero, CEO of Bedsrevenue, who began by highlighting that, indeed, in 2022 there has been a general improvement in the figures associated with hotel sales, with increases in occupancy (33.1%), ADR (11.9%) and RevPAR (49%), but qualifying that it has not been due to changes in strategies, but rather to a situation that has been given to us, a " special situation", dependent on highly changing variables. He spoke of good forecasts but that must be interpreted with caution. After this brief introduction, he focused his speech on the importance of finding the unicorn, understood as the Buyer Person, and on the need to ask the right questions: who sells me, how and when they do it, how much does it cost me, how profitable is it? at the RevPar / TrevPar level, how loyal is that client and what do we really know about him.
With regard to distribution, he also emphasized a recurring idea but still considered a pending issue: it is not enough to limit yourself to signing contracts. Their recommendations go through establishing an intermediation scoring to achieve the long-awaited healthy channel mix. The objective is none other than to identify which distributors are not necessary because it is increasingly difficult for a distributor to provide a specialized niche that really helps make a difference. It is therefore a question of defining economic objectives, but also of defining operational objectives with each of the distributors: budget and action plan, in short.
In the second block of his speech, he spoke of a "return to the pre-pandemic past", referring to a trend in which the hotelier fits into a mix dependent on the tour operation, a player who is working very hard to occupy the position that I had before the pandemic. The customer has changed and we must be able to reach them without depending on third parties. Something that the OTAs are very aware of and that, relying on the technological evolution within the distribution, they execute perfectly.
Therefore, the roadmap seems clear: we must identify the buyer persona and get fully involved in the battle for the customer, our present and future buyer. The gold of our time is data, and the cleaner it is, the easier it will be to work with. We should not be afraid to differentiate between profitable customers, less profitable customers, and customers who simply aren't.
To achieve impact in each phase of the conversion funnel, we must come up with a strategy that adds value before, during and after the stay, understanding the Customer Lifetime Value (CLV) as a piece of information that must always be on the table. The technology to do it is within our reach and the ROI it brings is fantastic. It is time to practice, and we quote verbatim, a surgeon's income.
Bullet point recap
Direct sales connection - retail
Increase TrevPar
Establish a distribution score
Get to know the customer in depth to increase CLV
Pay special attention to the advance sale of the distribution
Be very careful with the US market and nearby markets
Very aware of the application of NFTs and blockchain technology
How to incorporate gamification in distribution