5 digital marketing trends for hotels in 2023
Marketing
10/01/2023
Get Ready for the New Year
Back to the routine after these festive days, and it's time to catch up. In order to help you shape your marketing plan for this new year, Paraty Tech has gathered
5 digital marketing trends
that will be present in the hotel industry during 2023:
Meta Search Engines
You might be wondering, Meta Search Engines, what is that? But let's summarize it in a few words: they are
metasearch channels that allow comparing the price of a hotel across different distribution channels
, whether it's the official website or various OTAs.
Some examples of these platforms include: Google Hotel Ads, Trivago, Tripadvisor, Kayak, Skyscanner, etc.
Once again, Google is on the podium, gaining a very competitive advantage that others don't have. It is the most used search engine in the world, and with Google Hotel Ads, metasearch results appear directly when conducting a search on Google.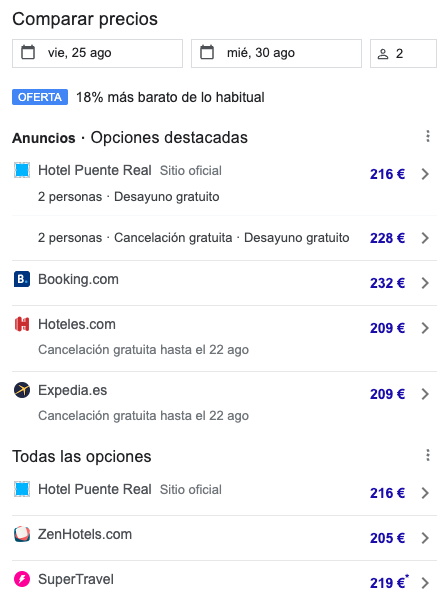 If your hotel's official website does not appear in the metasearch results, you are losing sales to OTAs. Google allows you to be in these results for free (free booking links) and paid, through ads (Google Hotel Ads). However, for either option, you need a company that is an official Google Partner, as is the case with Paraty Tech. If you want more information, feel free to ask your account.
Mobile Marketing
Leaving home without your mobile is unthinkable now, isn't it?
In just a few decades, mobile phones have become an indispensable object in our daily lives, and some even classify them as an extension of the human being.
If they were once just a means of socialization and connection, today, mobiles allow access to services, banking apps, work tools, tickets (plane, concerts, events), GPS, etc.
It is up to companies, in this case, hotels, to
make the best possible use of mobile devices to add value to the guest's journey
. Examples of how we can use mobile marketing include: sending pre-stay SMS, online check-in/check-out, mobile keys, booking a service directly from the mobile, apps that allow room control, remote TV, and geolocated notifications, etc.
CX – Customer Experience
Customer experience is the qualitative sum of all touchpoints between the brand and the guest, before, during, and after their stay
. If the booking process on the website is stressful for the customer, it will add negative points to the quality of the experience. Conversely, if there is extra attention after the stay that makes the guest feel special, it will add positive points to the experience.
Basically, we have to see the customer experience as a whole, not just the experience during the stay (the famous "operation"), as this is only one phase.
By mapping the customer's complete journey, we must pay special attention to customer frustration points, such as queues or long waits, and develop more comfortable solutions for the customer through process digitalization. Mobile marketing, as we saw in the previous point, is one of the resources that allows this consumer-focused digitalization.
Influencer Marketing
Influencer marketing will continue to grow, not only in the market for large companies. For small and medium accommodations,
turning to digital influencers is an excellent way to expand brand reach and awareness
. And although there is still some reluctance to this type of collaboration, it is a trend that will be present in 2023.
When inviting an influencer or saying "Yes" to a collaboration, it is important to study the influencer and ensure that their followers align with the hotel's target audience, and the values they convey are in line with the brand. Only then can the hotel ensure a strategic position in the markets of interest and, consequently, achieve the appropriate profitability.
Video Content on Social Media
It is a fact that the trend of sharing video content has been with us for a few years. But this year, it has taken on a new dimension. Because, if before the production and editing of videos depended only on experts, now this process is carried out by content creators and everyday users on Reels (Instagram) and TikTok.
These short, vertical videos are increasingly consumed on social media and, in turn,
increasingly valued by social media platforms
, giving them greater reach.
Integrating this type of content into your accommodation's social media planning to capture and inspire your audience is an important step to gain visibility and boost the desire to visit. If you need support in this creation, you can always collaborate on photo and video projects with influencers in exchange for content to use!
Does your hotel already follow any of these digital marketing trends? Keep them in mind when developing your hotel's marketing plan for 2023 to maximize your value proposition in line with your establishment's resources.