Paraty Tech integrates with Hotelverse to offer a new dimension of direct sales
Partners
27/10/2022
A new way to book
The first hotel in which it will be possible to verify the result of the integration between the
Paraty Tech
booking engine and
Hotelverse
will be the
Amare Beach Hotel Ibiza
by
Amare Hotels
, belonging to Fuerte Group, which has already created its digital twin and will be operating soon . That technology advances by leaps and bounds is unquestionable. But in this process, first there are those who open the way, and then those who take advantage of the clear path to follow the marked path. Hotelverse is undoubtedly part of the first group. In fact, they have achieved something as complicated as creating a solution that, in some way, represents a reinvention of the wheel of hotel reservations. A
new dimension of direct sales
from all possible sides. On the one hand, the guest will now be able to book exactly the room they want, through an immersive interface based on a digital twin of the establishment, which will allow them
to move around the facilities practically as if they were there
. On the other hand, it will change the traditional way of making revenue, by enabling the option of
setting prices by specific room number
, instead of doing so by the usual types or categories. For its part,
Paraty Tech
, a company with more than 10 years of experience, specialized in the development and implementation of technological solutions aimed at increasing direct hotel sales, has always been characterized by getting on the bandwagon of innovation. So it is not surprising that it has become one of the first booking engines in the market to integrate with them. In the words of
Fermín Carmona, CEO & Co-founder of Hotelverse
, "if anything characterizes Paraty Tech it is its functionality and ease of use, essential requirements for us, as a brand and as a product promise". Paraty Tech continues, "complete its proposal to generate reservations with the digital twin, thus taking a giant step in technological transformation and sales conversion
".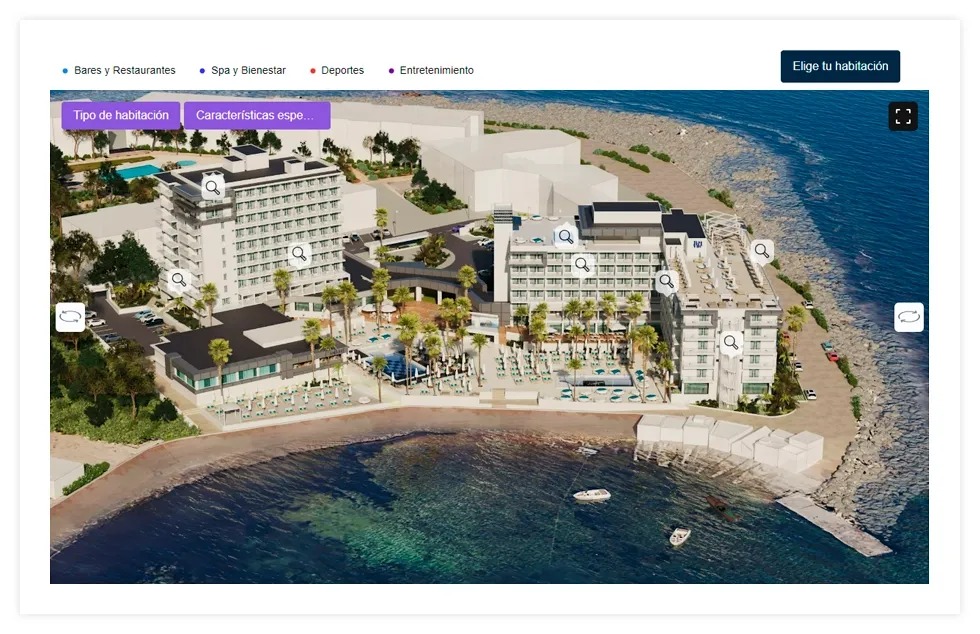 The
Amare Beach Hotel Ibiza
, belonging to the
Amare Hotels (Fuerte Group)
chain, has already planned its digital twin and will be the first establishment in the Paraty Tech client portfolio to implement Hotelverse in its reservation process. Fuerte Group is a clear example of direct sales at a national level, which has always been characterized by its innovative attitude, as
Martin Aleixandre, Chief Commercial Officer
, explains to us, for whom this initiative represents
a new opportunity to continue differentiating itself and setting trends
: "
Anything that adds value in terms of direct sales and in relation to the guest experience, we value internally and try to implement it. Especially if it is a disruptive and useful solution, such as Hotelverse, with the peace of mind of having a partner like Paraty Tech, always ready to undertake any project or suggestion for improvement that we propose ".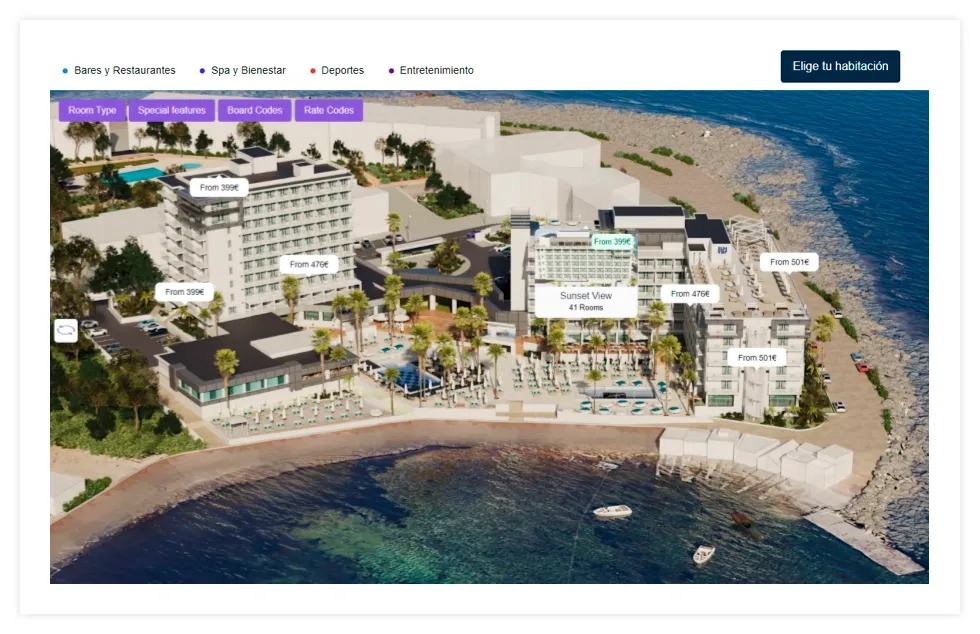 Gina Matheis, CEO and Co-founder of Paraty Tech
is aware of the potential of this integration, especially for hotels and vacation resorts, where
the location of the room can make a big difference
: "
having the ability to decide to sleep on foot the beach, having views of the pool, being close to restaurants or far from the facilities for children, supposes a great differential value for the traveler, who will surely be willing to pay more in exchange for enjoying the power of choice and know exactly where your room will be located. In turn, hoteliers must understand that an integration of this nature will help them increase the price of certain rooms, the average ticket and the total revenue , paradoxically, also improving the accommodation experience of their guests, despite the probable increase in their bill. . With Hotelverse and Paraty Tech we all win
".